Early Childhood Teaching Resources to Teach Your Children Music At Home
Why use our early childhood teaching resources or childhood lesson plans in your home? Because you are your child's first and most influential teacher — nobody knows them better than you do and lesson plans can help you become your child's best ever teacher. Our system is easy to understand no matter how much or how little you know about music. Get started today with your unique coupon code below.
As a parent, grandparent, nanny, carer, or home schooler, can you relate to these 5 dilemmas?
I love music and my child loves music too, so I'm pretty sure I've got a musical child BUT when should I be getting a music teacher to teach them how to play an instrument and read music?
What about baby, toddler or preschool music programs I see advertised — do I need to enroll my child and if I don't, will we be missing out?
I really can't afford to take my child to the local music sessions, so are they really worth the money?
I keep hearing in the media that music is really important for proper brain development but I don't know what to do about it, so is singing songs enough?
How can music help my child who is not coping too well?
These are the sorts of questions we often hear from parents, grandparents, nannies, carers and home schoolers. And that's why we tried our ideas with our extended families, colleagues and friends to see if the parent or carer could do the activities without a music teacher there to lead them. We found out that they were successful and really enjoyed it too! Learning and behaviour improved and relationships got a whole lot 'warmer'. So we wrote simple lesson plans each based on a fascinating theme for home-based educators just like you. We know you certainly don't have time to devise regular music sessions to develop your child all by yourself. And maybe you don't have the spare cash to take your child out to an expensive music program. However,  you can give your child every advantage through music at home.
What can my child learn through music?
Researchers keep telling us that music is not only good for children in it's own right, it also enhances learning in many other ways. So why not use your own love of music and your child's natural affinity for music to
learn about the world through song
learn to control emotions through melody and an expressive voice
learn to listen and predict patterns through rhythmic movement, fun dances and instrumental play
learn how to get along with others by making music together
learn coordination indoors when you can't go out to play through drama games, actions and dances
If you use these early childhood teaching resources and plans to make music every day, you can watch your child develop language, rhythm, coordination and self-control. When you invite your friends over to join the musical fun, watch everybody's social skills flower. And the best part is — you don't have to be an expert. Simply follow the directions and play the MP3s. You can be the singer, supported by the karaoke backing tracks or you can use the vocal versions and let our singers support you completely. It's like having a helper in your living room but without the increase in screen-time. All you need are a few inexpensive percussion instruments, some picture books, some toys and props you can find around your home.
With this great groundwork in music and movement, your cooing baby will stay distress-free for longer periods. Your singing toddler will be happier and better able to control their emotions. Take a look at the 1 and 2 year old lesson plans for learning with toddlers. If you start using the 3 and 4 year old lesson plans in your home, your preschool child will be ready for instrumental music lessons soon after they start school. That's the usual time when their body and mind have matured enough to cope with the extra burden of formal lessons with a music teacher. They call it 'school readiness' for good reasons! Get your child ready for school with these fun and engaging music lessons in your own home. You'll be teaching them so much more than music and your own inner musical child will love it.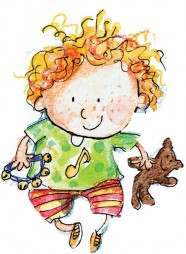 What you'll gain by using these early childhood teaching resources

Communicating Musically
Encouraging your child to communicate is one of the most exciting parts of being a parent or carer. As you introduce the stimulating new ideas, or the soothing music, their thinking skills are engaged and you can see the signs of learning.
Their face glows as they tune in to the music and suddenly realize that they can join in with actions and lyrics.
They react with confidence and joy and want you to 'do it again'.
They are always excited at the start of your 'instrument jamming time'.
They show intense interest in picture books with children's songs and nursery rhymes.
They stay in the room where the music is happening, even if they are playing with toys and appear to be uninterested.
They respond well to being patted or stroked in time with the music.
They relax and settle easily as you sing them songs for 'sleep time'.
They remember songs you've done before and ask for them.
They play the games and sing parts of the songs when they are on their own.
They learn naturally how to play instruments from your modelling.

All the recorded music you need in one place
You can save yourself hours and hours of frustration searching online for children's songs and activities that are just right for your child's age.
Not only do you get a recording of each song in full, you also get a backing track so you can sing it yourself and that's important. Why? Because the research on language development says that infant-directed singing is even more effective than infant-directed speech.
These recordings have been tested on hundreds of parents and they love them because they are in singable keys (we know that most of us are mere mortals who don't have the angelic voice of a pop diva).
You'll remember many of these songs from your own childhood and therefore you will feel confident that you have songs and games to share with your family and other families that visit your musical home.
The songs have catchy arrangements and your child will hear the percussion instruments that you have at home such as bells and shakers.
This is a collection of children's songs curated by experts in early childhood so you can trust that the lyrics will teach your child about kindness, awe, wonder and humour.
What do other At Home Educators say?
In an independent survey we got these comments from parents who use our resources in their homes:
Sophie is thoroughly enjoying Musical Child. She is even starting to sing nursery rhymes which is staggering considering she can only string about 3 words together when she talks. The other day she recognized Twinkle, Twinkle Little Star in a nursery rhyme book and sang the whole of the first verse on her own without any help or prompting. Many of the words weren't perfectly pronounced but she was certainly having a go at singing every one of them.
My child is not scared to burst into song at home. It helps his pronunciation of words.
We sing at home in the bath. J. now turns the pages and her listening skills are improving, she can now add key words to the songs. It helps to settle her down at the end of the day.
I think rhythm is important and my daughter really enjoys the equipment. The repetition of making and listening to, different sounds is very stimulating.
Get 10% Discount - Apply This Coupon Code AHE616
When you place your order for the first 5 Toddler Lesson Plans together
1."We Play Music"   2. "Sun Moon Star"   3. "Up High in the Sky"   4. "In My Boat"   5. "Hot Cross Buns"