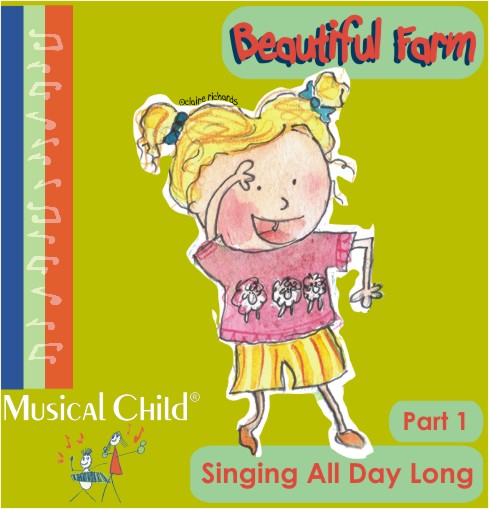 Are you quaking in your boots about to face your first music lesson with preschoolers? Never fear, they'll like you and it'll be fun!  It goes without saying that the lesson should be activity-based so I'm going to run you through a lesson with eight activities.
The first rule is "be prepared". The second rule is "be over-prepared" and then you can quickly switch out of an activity that isn't working. The third rule, especially for beginners, is "choose content that they like."  Kids like animals and the idea of living and working on a farm surrounded by animals is sure to appeal and so today I offer you Beautiful Farm: industrious songs and activities about farm practices — growing crops, raising animals, shearing and maintenance of machinery.
This is a tried and true music lesson plan that works with kids aged three up to about six years, and maybe older. It follows our usual Musical Child format. This consists of
several activities for high level concentration,
followed by a couple of instrument activities,
then some whole body work with drama, dance and movement
finishing with a quiet time with a story song.
This first music lesson with preschoolers runs for about 45 minutes so if that's too long for you, split it up into a couple of twenty minutes sessions. I repeat all the activities a week later and it's amazing to see how much the children retain. The lesson always flows much better the second time. If you would rather save yourself hours of preparation time by buying the Lesson Plan from us – click here for Beautiful Farm to get your instantly downloadable music activities.
If you want to do it yourself, here's what to do:
Gather all your instruments, props and books, CDs or mp3s and media player before you sit in a circle to start your first music lesson with preschoolers. Here are the activities followed by the song titles and what to so:
Body Percussion

–

J

ohnny Works with One Hammer

.  I tell them the sheep have escaped into the neighbour's farm and Johnny has to chase them back home and then mend the fence. The game starts off with easy actions and becomes more and more complicated requiring concentration and physical stamina.  Everyone's laughing by the end!

Finger Play

–

Piggy Wig and Piggy Wee

. This is the ultimate in cute songs as you'll see when when the little fingers waggle like pigs tails. The children love to copy from you the many and varied actions from making a roof, to running their fingers across the floor to opening the gates (their hands) and of course that little pig tail waggle. They'll want to do this finger play "again".

Memory Song

(number) –

One Man Went to Mow

. You need to prepare some cards with images of men mowing and the numerals 1-5. This repetitive English folk song could get annoying if it weren't for the regular appearance of Spot the dog and how else are kids going to learn number sequence without repetitive songs? We want them to memorise the sequence of numbers when adding one and the order of the numbers when counting backwards. You can introduce the idea of large farm machinery in this ancient song or stick with the scythe.  It's a good opportunity to show the scythe in it's original usage rather than in the Halloween icon of the Grim Reaper. You can also show a picture of a spotty dog but I like to use a toy dog and hide him behind my back.

Rhythm Instruments

–

Come and See My Farm

. We accompany this song with four different instruments – shakers, bells, guiros and finger cymbals, each one representing a different animal.  This is a fabulous way to teach instrument handling. We only play our shakers when we are singing "cheep, cheep" during this line – "My lovely chicken goes like this, cheep, cheep." This encourages self-discipline and restraint. There's nothing worse than indiscriminate instrument playing.  Children with sensory overload disorder are at real risk of being excluded from the learning opportunity and anyone with sensitive hearing suffers so play with purpose and sensitivity and reap the rewards. If there are children who can't restrain themselves, be sensitive to that too. I let a lot of stuff "go to the keeper" and I'm rarely strict unless I know the children really well (and even then I'm not strict!)

Melody and Harmony Instruments

–

Hickety Pickety My Black Hen

. I love this song and always remember my own lovely black hen stolen by a crafty fox. The activity we've designed is easy if you simply play any note of the five – CDEGA. Or it can be challenging if you try to match the melody notes.  Some five year olds will enjoy this. You'll need Orff-type instruments for this activity.

Drama and Movement (horse-riding)

–

I Have a Little Pony

.  Oh what fun, it's horsie time! We do this every lesson i.e. every week  and it's a favourite whether we are using hobby horses or simply tucking scarves into our waistbands to simulate tails. Heigh-ho Silver-Away! Our music gets faster and faster and faster. This is a great activity for practising spatial awareness and for being able to stop the body when the ears hear the music stop.

Drama and Movement

–

Click Go the Shears

. In Australia this song is almost as iconic as Waltzing Matilda. We have fun "shearing" a large toy sheep with pretend shears while playing castanets on "click, click, click". Lately I've been taking raw wool, combed wool and woollen yarn for children to touch and discuss. We also get lively conversations when I show photos of shearers at work. Other times I show illustrations by artists. There's so much you can bring to enrich this song.

Games and Dances

–

The Farmer in the Dell

. Bring in a few props such as hats for the farmer and his wife; a teddy for the child; dogs ears, cats ears, mouse ears (I make them on headbands); an image of a cheese on a wearable card.  This traditional game teaches a sequence of characters and the nonsensical phrase "Hi, ho the derio" which is good fun to sing. School children can play this game easily but with preschoolers I simplify it and dance in a circle with a few props identifying the various roles.  Having "the cheese" run away might intimidate some sensitive children so choose your cheese wisely!

Story Song

–

Mary Had a Little Lamb

.  Choose a book with a lovely illustration for this classic tale of the bond between a child and her companion animal. It is such a simple story but this is the very age when it works!  Enjoy their delight and ask them to sing it with you a second time through.They will surprise you with their soft, sensitive voices.
I hope you gain a lot out of running your first music lesson with preschoolers – whether you do all or just parts of this lesson. Save yourself hours of preparation time by buying the Lesson Plan from us – click here for Beautiful Farm to get your instantly downloadable music activities. They come complete with backing tracks and vocal guides to teach you how to sing all these songs and more.
Post your comments here and join the conversation about running your first music lesson with preschoolers.
Enjoy the children and the music!  Carol.
Click here for Beautiful Farm! – your first music lesson with preschoolers