EYLF Outcomes (Early Years Learning Framework) – Music and Movement
This article is about the practical implementation of Musical Child's songs and musical activities in line with each of the five learning outcomes in the Australian curriculum framework, Belonging, Being and Becoming.*
The EYLF – Early Learning Outcomes
Read our responses to the early learning outcomes from the Australian Early Years Learning Framework (EYLF) to see how Musical Child contributes.
Outcome 1: Children have a strong sense of identity
Musical knowledge and musical preference are very strong markers of identity. The traditional songs of childhood are an extremely important resource for educators to draw from. Children who know many songs are more likely to have a confident self identity. Research has shown that toddlers interact with care, empathy and respect with other people of various ages who have shared songs dances in common with them. Songs/dances/ceremonies shared by a cultural group are critical for maintaining inter-dependence and resilience, and a strong sense of identity.
Songs are carriers of interpersonal skills; they formalise the act of giving and receiving and mark social anniversaries. Because songs are artworks, they provide a storehouse of examples for the child's own and symbolic and strong sense of creative expression. 
Transitions can be sung: the child who is included in musical activities develops a positive sense of self. The act of greeting and/or fare-welling by name enhances each child's sense of identity. Groups of children listening for each other's names gain a confident sense of who's in the group. They know with whom they belong.  e.g Hello Song; Goodbye Song.
There are many songs scattered throughout the Musical Child programs that call for the inclusion of individual children's names e.g. Ruby Goes High; Clap Handies; Oh Susanna.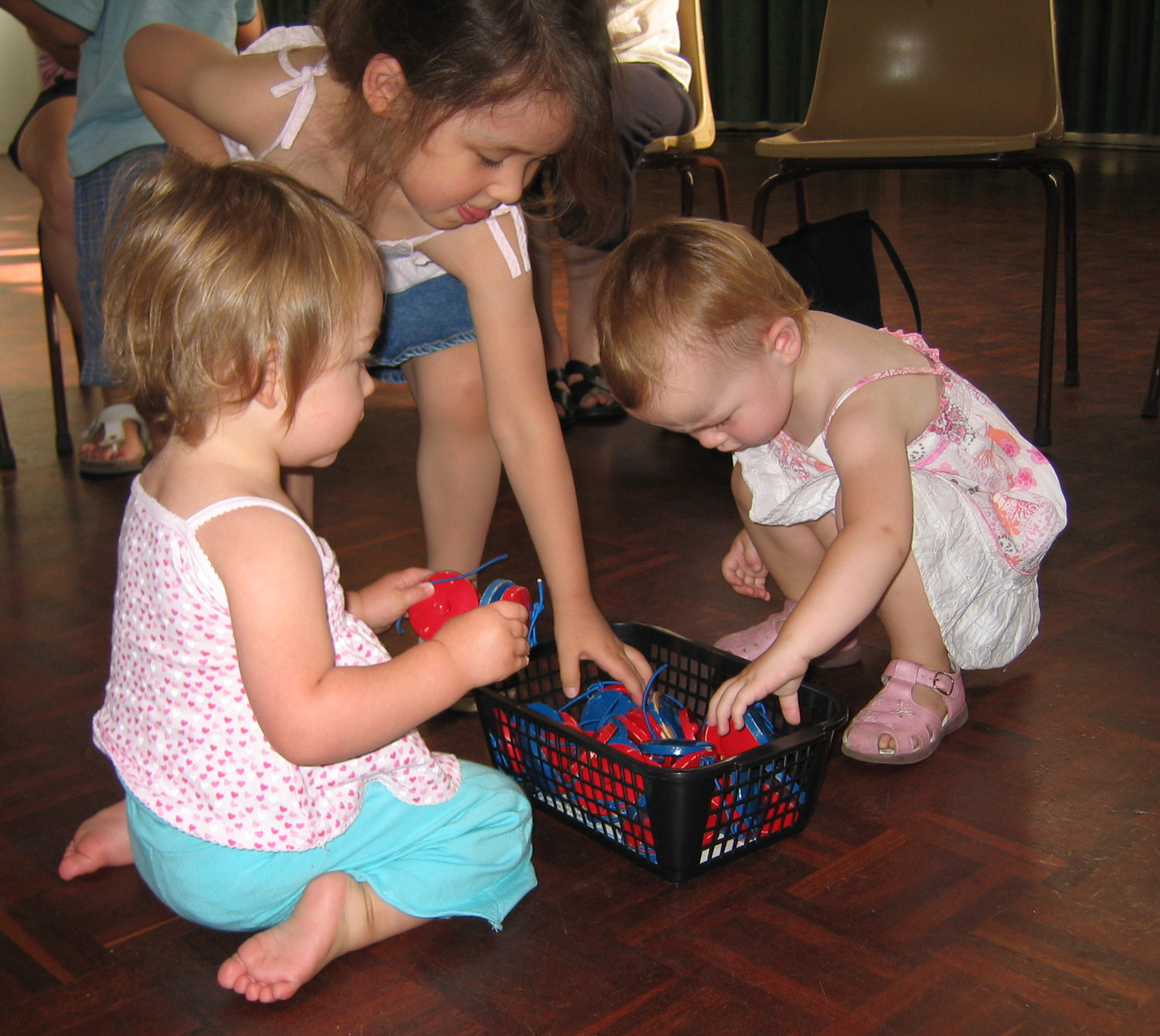 Outcome 2. Children are connected with and contribute to their world
Music Appreciation: when children in early childhood listen to and move/dance to recordings from diverse cultures, they are connected to past and current shared worlds of significant music. e.g. David Hudson, Solo Didgeridoo 'Wongabell' from Yigi, Yigi ; and George Frideric Handel Royal Fireworks Music – La Rejouissance.
Drama and Movement: when children interact with each other while playing musical games, they contribute to the social fabric in their homes or centres. They also  learn to creatively handle props and manage indoor spaces. e.g Click Go the Shears; Alley Alley Oo. 
Transition Songs: when children in early childhood are confident and involved learners, they look after their things through songs, they learn to use teamwork. They come to understand when one activity finishes and another begins; they gain a growing understanding of where things are stored so they are easily accessible for use another time. e.g. Pack Away Song.
Drama and Movement: when children pretend to ride or be horses, they make use of their whole body to connect with their world through a string sense of dramatic play. They imagine other environments while navigating through indoor spaces. e.g.The Little Horses by the Creek; I Have a Little Pony.
Outcome 3. Children have a strong sense of wellbeing
Here are a few of the ways musical activities support children's physical and emotional well-being.

Knee Bounce activities for babies and toddlers internalise the strong driving beat of the song. The feeling of the beat goes directly into the body of the child, either by bouncing on an adult's knee or by encouraging the child to bounce on their own haunches. In our musical arrangements, the song is played three times with each repetition at a faster tempo to increase excitement and joy. The Bounce track lasts approximately one minute.  e.g. Bell Horses; Rub-a-dub-dub. 
Touch is the most important sensory pathway during learning outcomes for the baby and young child so touch games and tickle activities are designed to stimulate fingers, toes and other parts of the body while having fun and learning particular words from the lyrics. They can be performed on the child by the adult or the child can perform them using the appropriate body parts.  e.g. Fingers Creeping; Pat-a-cake.
Lullabies offer a time for quiet restoration. The ritual of listening in a resting position is designed to achieve a degree of relaxation through a strong sense of the music. We know from recent research that lullabies are sung all over the world to ease the child into a restful state, often just before sleep. The steady rocking rhythms coupled with a swaying movement, patting or cuddling soothe both adult and child. – e.g. Lu-la Bye Bye; Cockles and Mussels.
Outcome 4. Children have a strong sense of confidence and involved learners
Here are just a few of the musical games and activities that support children's learning, problem solving and curiosity; cognitive processes, understandings and skills and to develop confident and involved learners.
Circle dances are sociable movement activities that are achievable and often quite wonderful when you have enough adults helping the children to hold hands and keep the circle in shape. Some children in early childhood prefer to sit or stand inside a circle of moving people.  Others need to be carried at first to enjoy the sensations. It is worth persisting with circle dancing with very young children so that you can witness the joyful moment when three of them spontaneously join hands and do it on their own. e.g.Sally Go Round the Sun; Rig-a-jig-jig
Mimicry, games and dances. In these activities of the children's learning, the educator presents a strong model to the children of what the whole body can do in time with the song. The actions are often prompted by the lyrics thus making the activity an opportunity for language development as well as for physical coordination. Hopefully the children will enjoy mimicking the actions and feel the rhythm of the song in their whole body. e.g. Head and Shoulders; Row Row Row Your Boat; The Farmer in the Dell; Hokey Pokey
Here are more categories of activity that inspire feelings of confidence, a strong sense of identity and recognise the competence of young learners.
Body Percussion activities internalise the strong, driving beat of the song into the body of the child. Body percussion makes a child feel and experience a pattern. This is so important in their mathematical development e.g. Johnny Works with One Hammer; A Sailor Went to Sea Sea Sea.
Finger Plays support the proficient manipulation of small objects and children's learning- an important skill for the growing child. These activities are designed to stimulate the imagination to guide fingers, thumbs, wrists, arms and shoulders while having fun and learning particular words from the flow of lyrics. – e.g. Grandma's Glasses; All the Fish, 
Instrument songs with the early chilhood learning outcomes encourage exploration of the various sounds made by each instrument and enhance creativity through a strong sense of musical improvisation. There are also activities that concentrate on keeping a rhythm and building attentive listening skills and improve confident and involved learners.
Some activities concentrate on one instrument thus allowing time for play and improvisation. Instrument (single) e.g. Eency Weency Spider; Twinkle Twinkle Little Star; Kookaburra Kookaburra; The Grand Old Duke of York; and Shoe a Little Horse.
In other songs there are several versions each featuring a different percussion instrument that you have in your equipment set. Rhythm Instruments 1-3  e.g.This is the Way We Play; Join Into the Game; Li'l Liza Jane; A Sailor Went to Sea Sea Sea; and Little Peter Rabbit.
Yet another group of songs have more complex activities wherein the child has to choose an instrument to suit the lyrics Rhythm Instruments 3-5  e.g. Come and See My Farm; Electric Car.
There is also a set of activities and songs based on melody and harmony Instruments or "tuned percussion", where children improvise and play melodies and harmonies – e.g. Hickety Pickety My Black Hen; Hot Cross Buns
Outcome 5. Children have a strong sense of communication
Story-time with nursery rhymes is mesmeric and trance-inducing, providing time for children to concentrate on learning speech forms. These rich parcels of language develop vocabulary, including rare words, and prosody (the vocal patterns in a language). Nursery rhymes also fulfill the growing need for narrative structure as children develop their awareness of people, time, event and place and the way they interconnect e.g. Hey Diddle Diddle; or Jack and Jill. Another purpose of the nursery rhyme is to teach basic knowledge such as rudimentary counting skills e.g. Baa Baa Black Sheep.
After physical activity it is appropriate to calm the children so they can rest and integrate the changes to their bodies. Nothing works better than story-time to interest them and change the mood and help with children's learning. We have chosen stories that are sung adding a musical dimension to this important shared literary experience e.g. Ten in the Bed;or Three Little Kittens.

Children become effective communicators when they are given great examples of communication. Songs have been used for millennia to carry information in easily memorised chunks underpinned by rhythm, rhyme and repetition – the real 3 Rs.  Memory songs help those things you just have to learn by heart – the sequence of the numbers both forwards and backwards e.g. One Man went to Mow; the days of the week e.g. Days of the Week; initial sounds of words in the phonics system e.g. B-b Baby Bilby; or first steps in learning another language e.g Taba Naba Norem (Torres Strait Is.) children's language and literacy
 Development of the whole child through music and movement
It is Musical Child's intention to positively influence the outcomes for children in their early learning,  early childhood, health, behaviour and happiness in their learning outcomes. We aim to do this through the provision of relevant and appropriate music and movement activities that support children's language and literacy; problem solving and curiosity; cognitive processes, understandings and skills; interpersonal skills; symbolic and creative expression; physical activity; and appreciation of artworks from diverse cultures.
Our Vision
It is our vision to make early children's learning through music and movement programs available to all children based on the established premise that every child is a musical child. Music-making is mostly observable as a social activity that has much to do with shared feelings and experiences and the regulation of interactions among people. Our programs are designed to foster harmonious interpersonal relationships within groups, and provide positive outcomes through play based learning and early years learning framework.
Musical Child is an approach, not a method in early childhood
Educators know in their hearts that any program they use must accommodate the needs of every child in their care and children's early learning and learning outcomes. Musical Child resources are infinitely adaptable. They help you to achieve positive early learning outcomes for your children because they are based on enduring activities and songs that children love. The music lessons for kids and toddler programs are guided by the wisdom of current researchers and thought leaders.
References
Belonging, Being and Becoming: The Early Years Learning Framework for Australia, 2009 Produced by the Australian Government Department of Education, Employment and Workplace Relations for the Council of Australian Governments. (Learning Outcomes) The Early Years Learning Framework for Australia (EYLF)